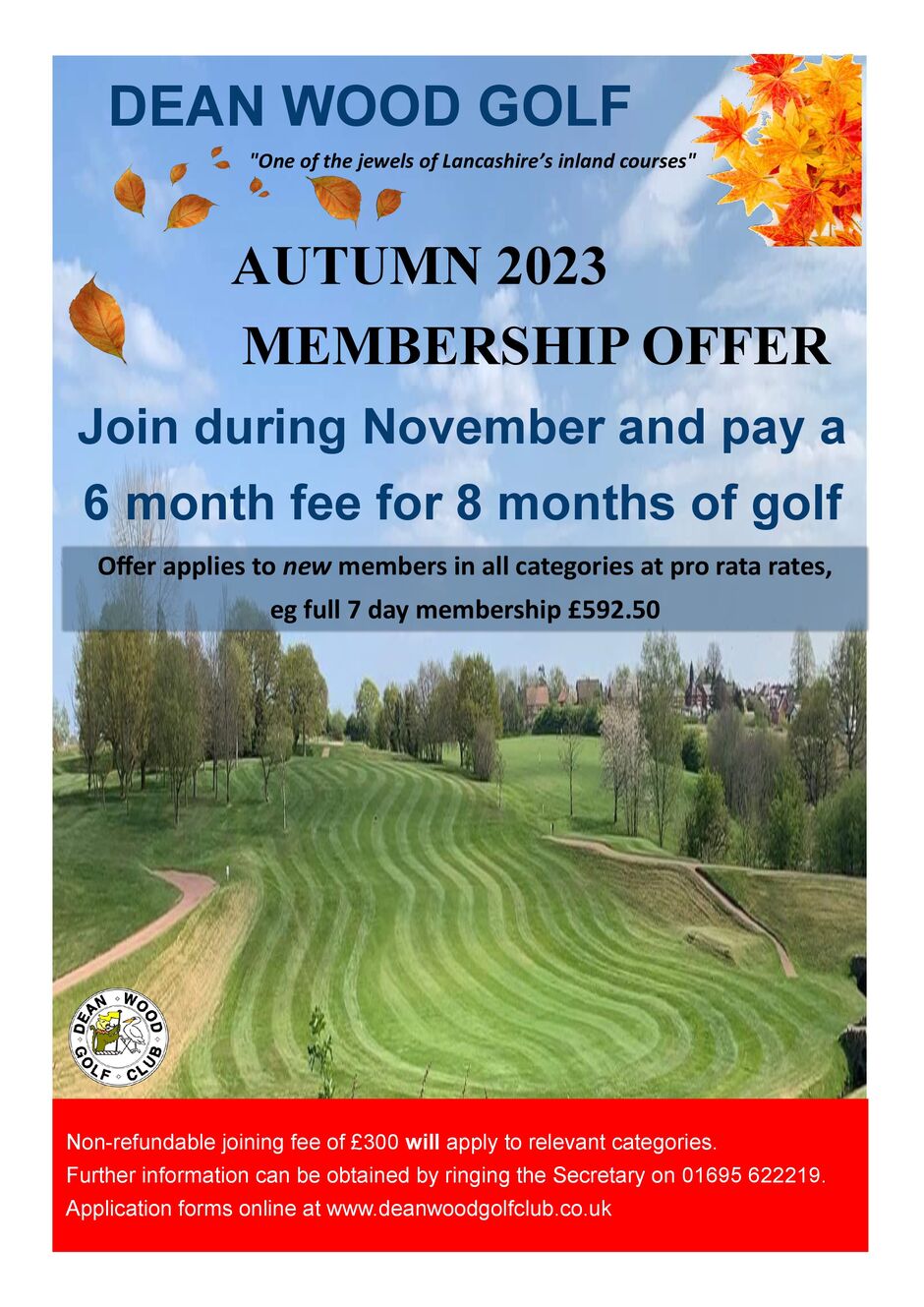 Application forms can be downloaded via the link below
Membership
Become a member
Dean Wood Golf Club is well established and we are extremely proud of our 100 year history. We are a vibrant golf club that runs competitions throughout the playing season on Wednesdays and Saturdays for men and Tuesdays for ladies. Junior competitions take place on Sunday afternoons. The club is an exciting place with golf available for all levels whether you are seeking competitive or social golf, you'll be right at home here at Dean Wood.
We are currently accepting applications for all categories of membership. If you would like to join and be part of a progressive golf club with a vision to maintain and improve its position as one of the best golf courses in Lancashire, simply download and fill in the application form and e-mail it to secretary@deanwoodgolfclub.co.uk. We will process your application and get you playing golf as soon as possible.
Benefits of membership
Being a members is, of course, first and foremost, about the golf course, and here at Dean Wood Golf Club we are fortunate to have one of the real gems in the Lancashire area. Our course has two very distinct nines; a relatively flat but challenging front 9 holes and then when you get to the turn, a back nine which is beautifully undulating and is a great test for all golfers.
At Dean Wood we appreciate the difficulties of younger members financing membership of a golf club. To assist with this we offer full membership at reduced subscriptions on a sliding scale and a monthly payment plan can be arranged.
Benefits include:
Competitive golf with midweek and weekend competitions.
Year round golf, although depending on weather conditions, winter greens may sometimes be in play.
Membership of The English Golf Union
Membership of The Lancashire Golf Union with reduced green fees at over 1000 other UK courses
Membership of The Association of James Braid Golf Courses that gives you reduced green fees at over 300 golf clubs world wide
Welcoming clubhouse with two bars, restaurant food and dining area, games room with snooker table and sports television
Discounted bar prices
Luxury locker rooms with changing and club storage facilities
Resident professional for club advice, lessons as well as a stocked shop


Subscription Fees
As from 1st July 2023 all new full playing members will be subject to a £300 joining fee and is non-refundable.
SUBSCRIPTION RATES 2023/24
7 Day Full Subscription £1,185
6 Day (Sunday to Friday) £1,016
5 Day Senior(25 yrs continous service,70+ by 1st July) £846
50 Years continuous service £790
Octogenarian(25 yrs continous service, 80+ by 1st July ) £593
Young Adult 23 – 25 £593
Young Adult 26 – 27 £770
Young Adult 28 – 29 £948
Intermediate 18 - 20 £356
Intermediate 21 – 22 £474
Junior Aged 17 £150
Junior Aged 13 – 16 £150
Aged Under 12 Free £0
Social Membership £50 (inclusive vat)
Joining Fee £300 this is non refundable
The subscription year runs from 1st July to 30th June.
New members can join throughout the year, with subscription fees being pro rated from the date of joining.
Download the Application Form below:
uploads/deanwood/File/MEMBERSHIP APPLICATION FORM 2023.docx


Junior Sections
We have an extremely popular junior section. Juniors get to play their competitions on Sunday afternoons but can also play at other times during the week to help them hone their skills. Juniors are welcome in the clubhouse and you can expect a friendly atmosphere that has safeguarding at the forefront of how members engage with our young golfers. If you you have an enquiry regarding Junior Membership, please contact the Secretarys Office on 01695 622219.
INTRODUCTORY OFFER FOR JUNIOR MEMBERSHIP
FREE - Membership for Juniors up to age 12
FREE - Group lessons for Juniors from the Club Professional
LADIES GET INTO GOLF
If you have never played golf before, find out more by emailing Pat Smith at:
patsmith_win@yahoo.com
Dean Wood are proud to offer a pathway for ladies wanting to Get into Golf. The pathway consists of 3 stages:
Stage 1: Ladies are offered group lessons with our Golf Professional at £10 per session on a weekday and/or a weekend day. The programme may be joined at any time of the year allowing for flexibility. Equipment will be provided initially.
Stage 2: This is where ladies will be able to play 10 holes of the course, initially with a mentor, for 6 months. This costs £100. After self-assessments, ladies will progress onto the next stage.
Stage 3: Ladies will become full 6-day members and will be able to play 18 holes without supervision. This is when they can start working towards obtaining a handicap so they can join in club competitions (if they wish).
STAGE 1 STAGE 2 STAGE 3
Group Lessons £10 each Play 10 holes of the course After Self-assessments, move
and start self-assessments on to becoming a 6-day
member
Join the Get into Golf (GIG) Accompanied by a mentor Play 18 holes
Programme at any time
Lessons:
Tuesday and/or Sundays £100 for 6 months £200 until next 1st July
DOWNLOAD AN APPLICATION FORM